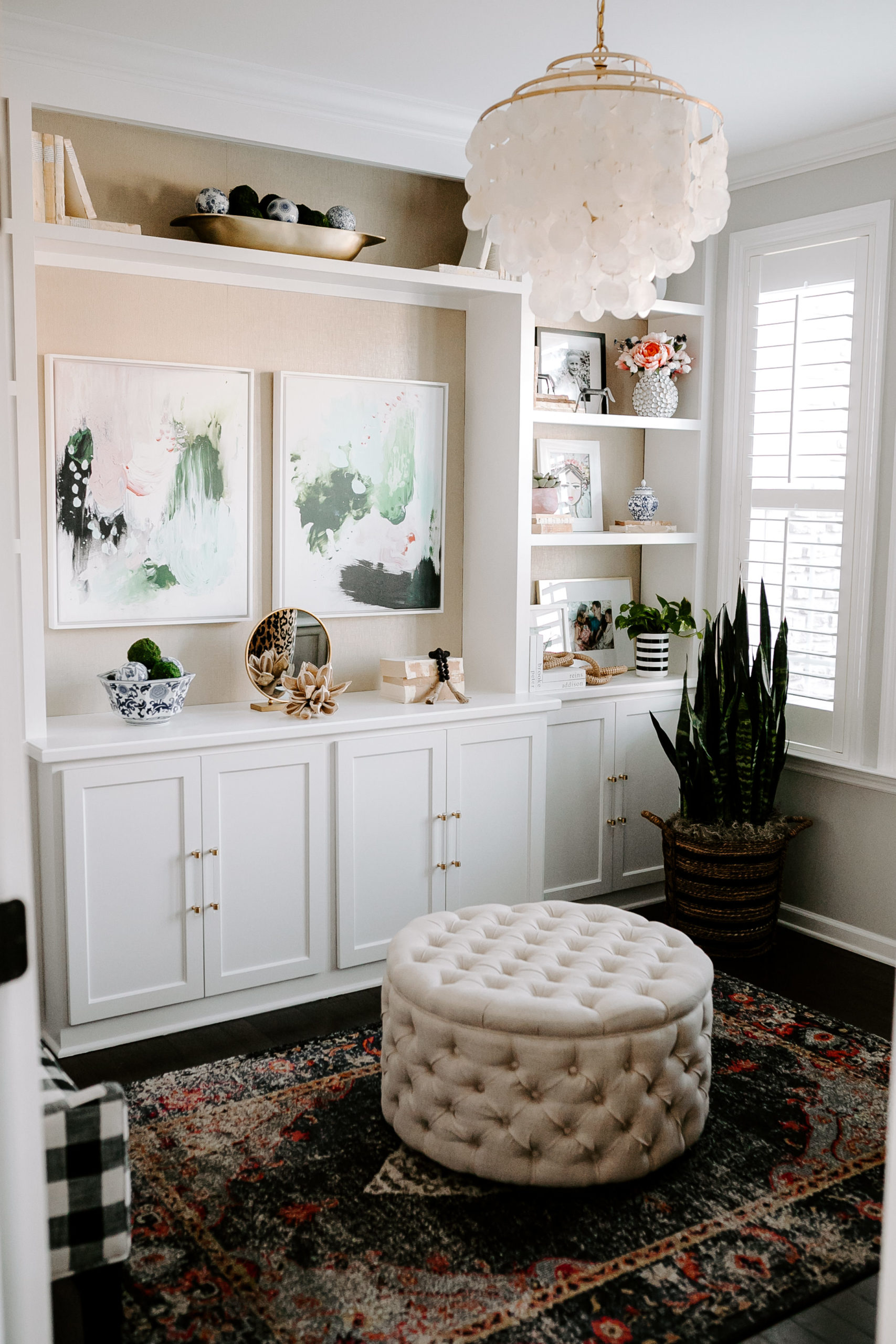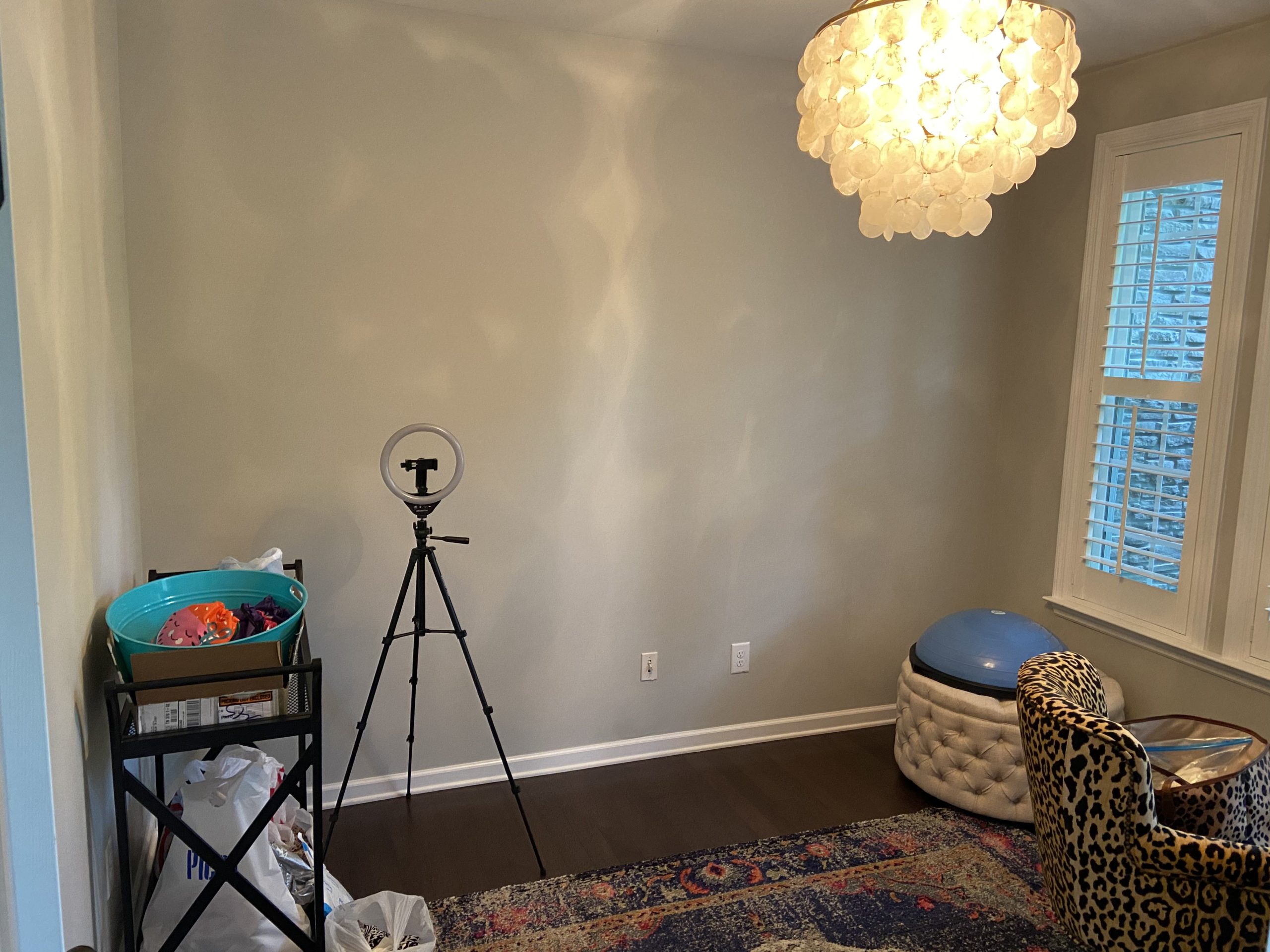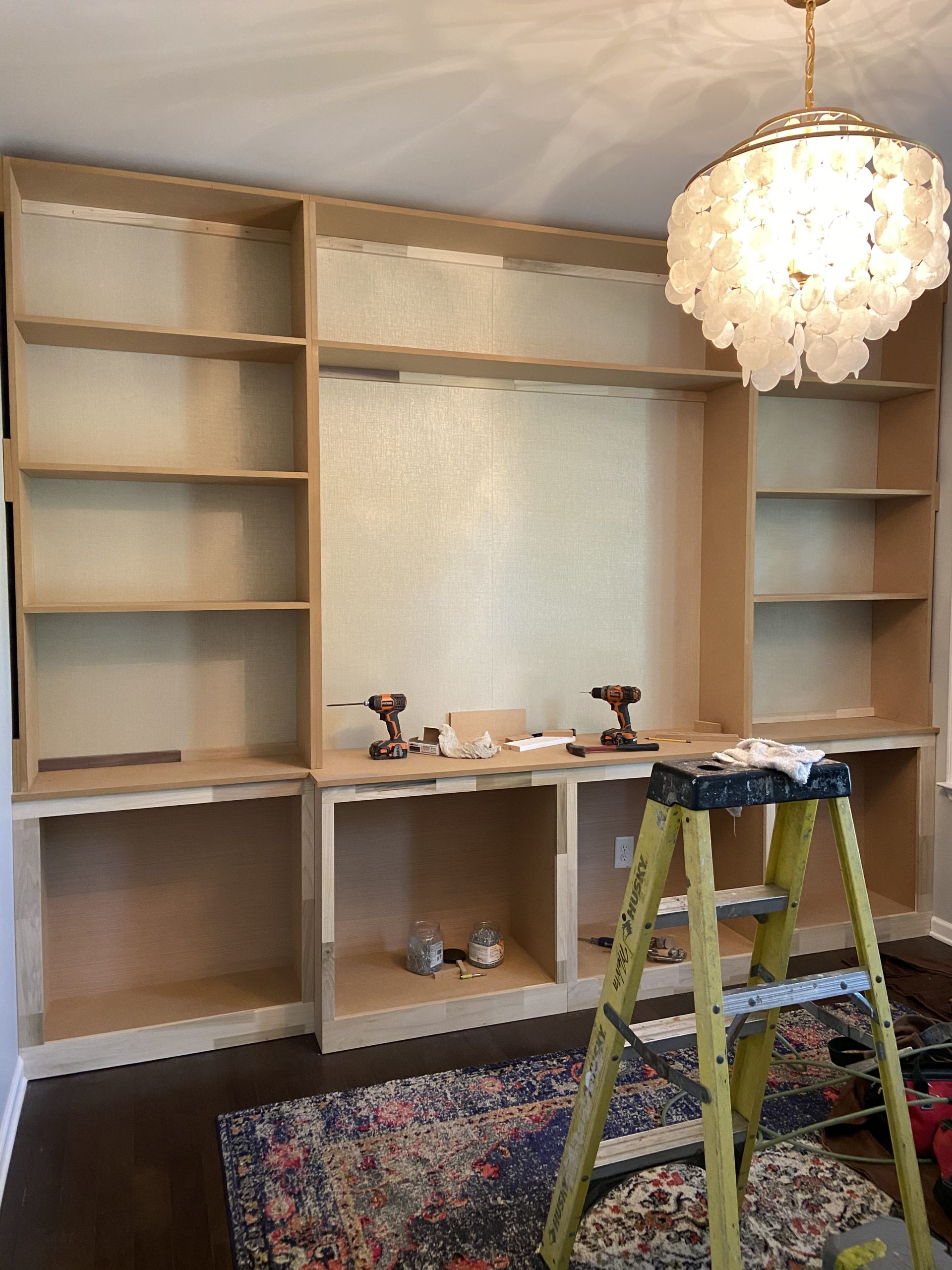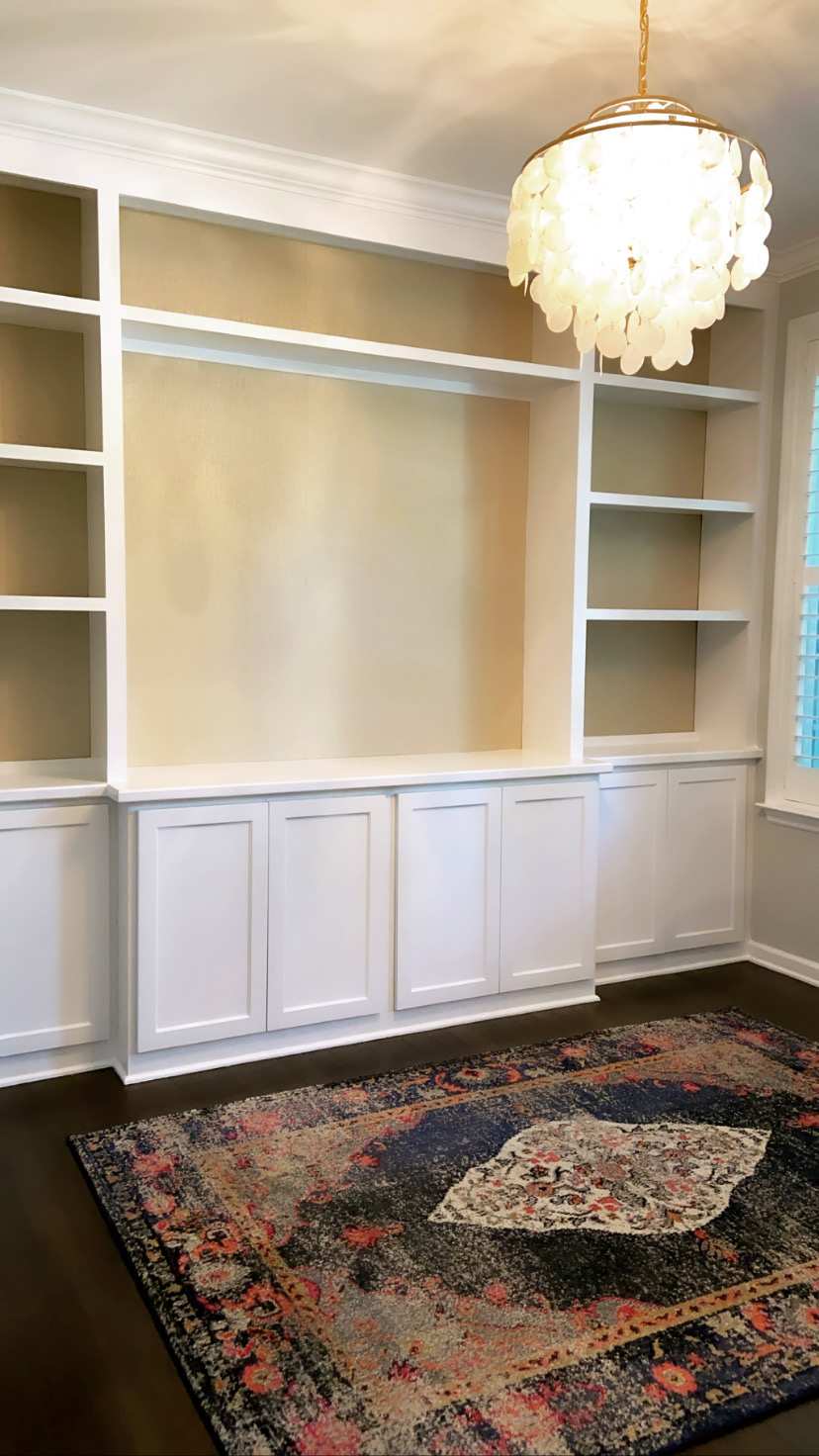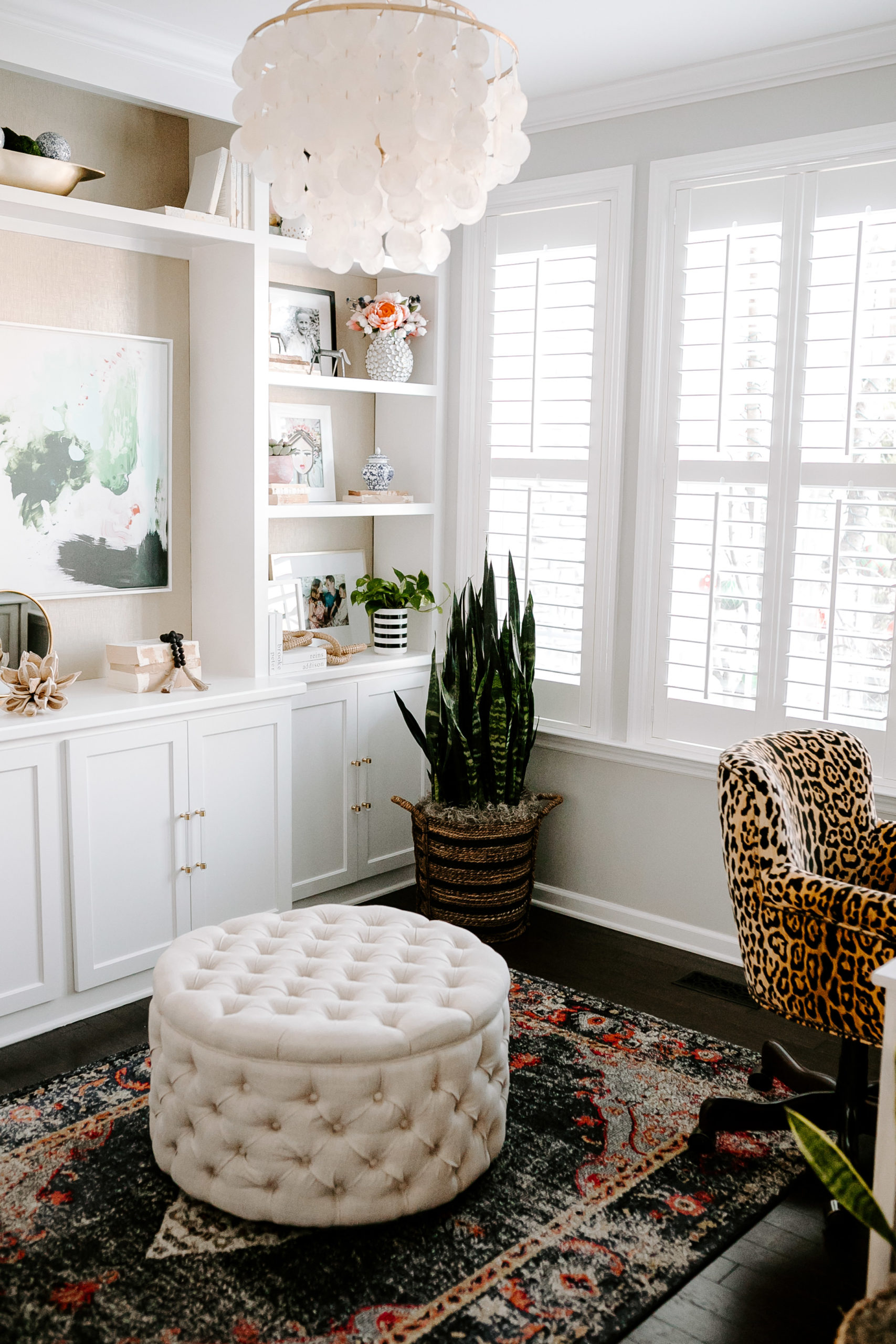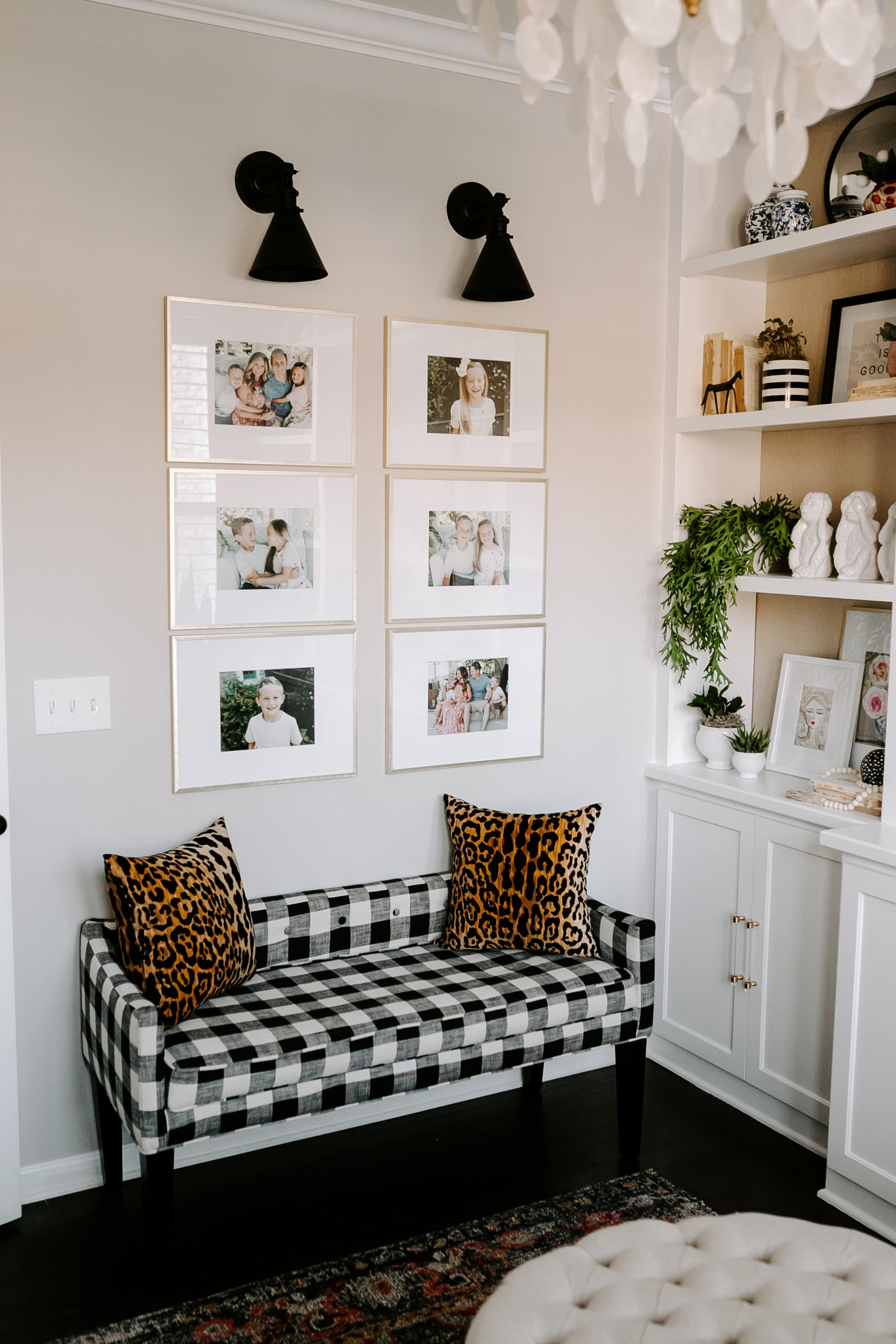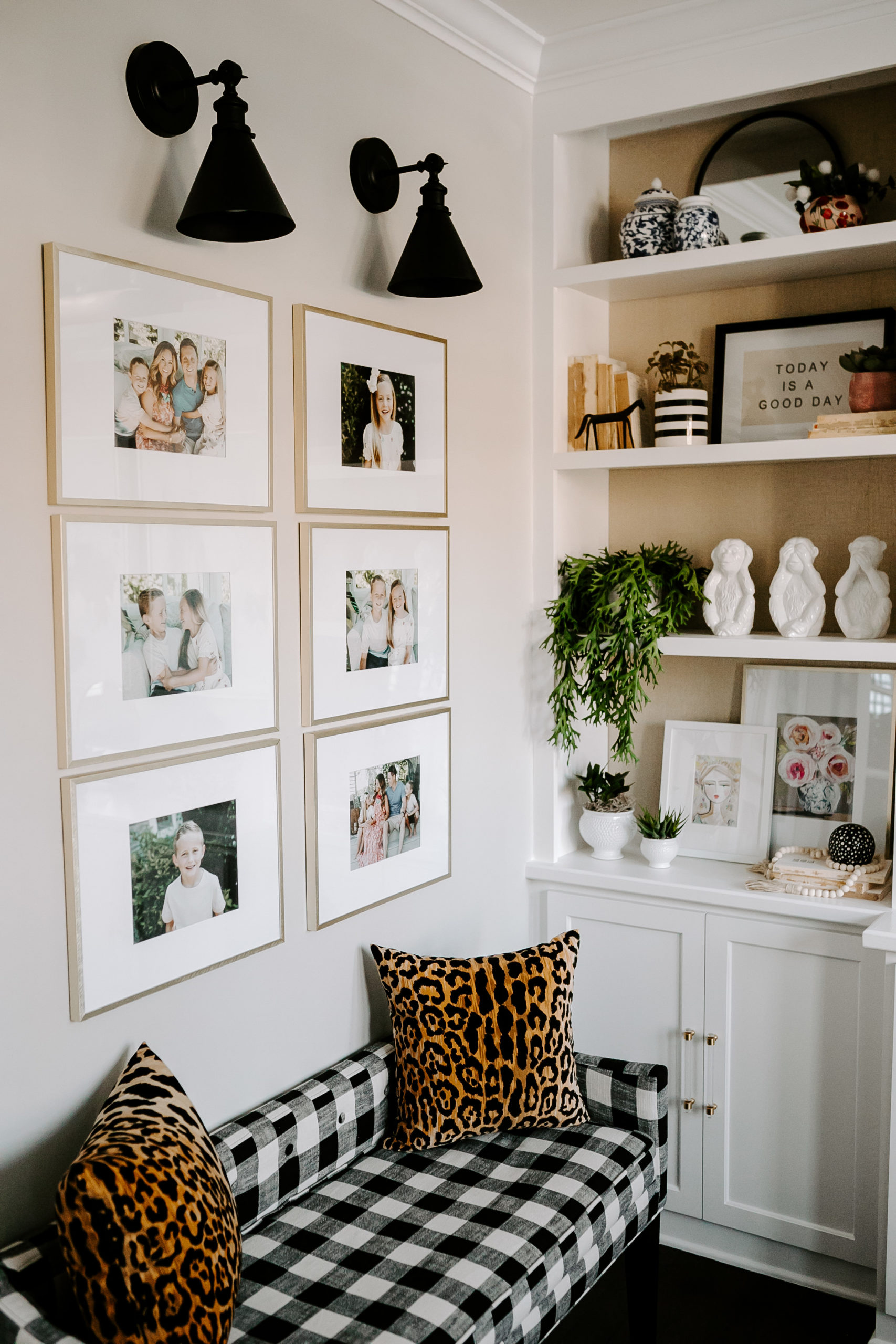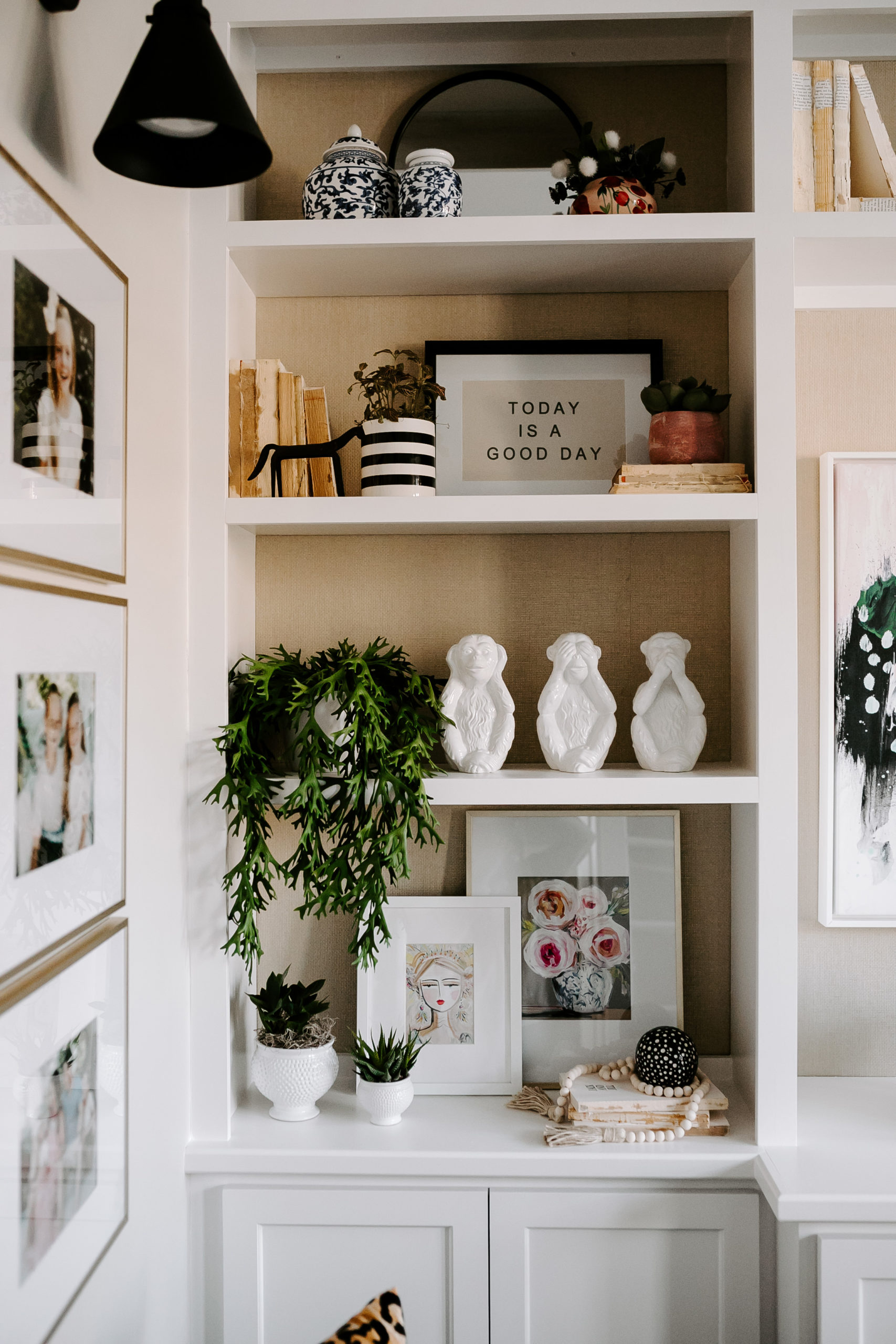 We finally finished our home office and could not be more thrilled with the way it turned out! My only regret is not having more before after images to share with you so you can get the full picture of how dramatically this space in our home has changed. I'm excited to share today's post as this home office makeover has been a long time coming…nearly 5 years to be exact!
We moved into our home almost 5 years ago and for whatever reason, at the time, our office space was not our biggest priority. We wanted to take our time decorating and making wise decisions on how we transformed each space so we began with putting our love and attention into other rooms. At the time, I truly did not have a vision for our office and was okay letting the space sit unfurnished and undecorated…it was a catch-all for so many years and was the collector of many miscellaneous things. I never really LOVED letting this room collect things and dust (as it is the first room on the right when you walk in our front door) but again, I didn't want to just fill it with things when my vision wasn't clear.
The very first thing I updated in this room was the light fixture…I chose this beautiful Cascade Capiz Chandelier from Shades of Light. It was as if I was setting the stage for what's to come. I love this chandelier so much and is truly one of my favorite accents in our office. Shades of Light has such a beautiful high quality assortment of lighting…I love their light fixtures so much that I ended up buying our matte black wall sconces from them as well.
I then decided that we needed to have built-in office shelving installed but first…the wall had to be wallpapered with a subtle burlap wallpaper. I wanted the wall behind the built-ins to be textured and special and I love how it turned out. Our carpenter then came in and created the perfect built-ins that we designed together and he did such a beautiful job. The gold/acrylic knobs are from a shop I found on Etsy called Hook & Knob. They are absolutely beautiful and they tie in with the gold on the chandelier.
Next up was the task of filling all of the books shelves with meaningful pictures and decorative items. This was the most fun part of decorating our office but also the most tedious as I knew what I was looking for…it was just a matter of finding the items I envisioned filling these spaces. I started my search on Etsy and found these beautiful unbound books. They came as a set off 25 so I was able to decorate almost all of the shelves with these books. I also discovered an Artist by the name of Maren Devine, whom I had not heard of before, and immediately fell in love with her artwork. I ordered several pieces of her artwork to fill our shelves as well.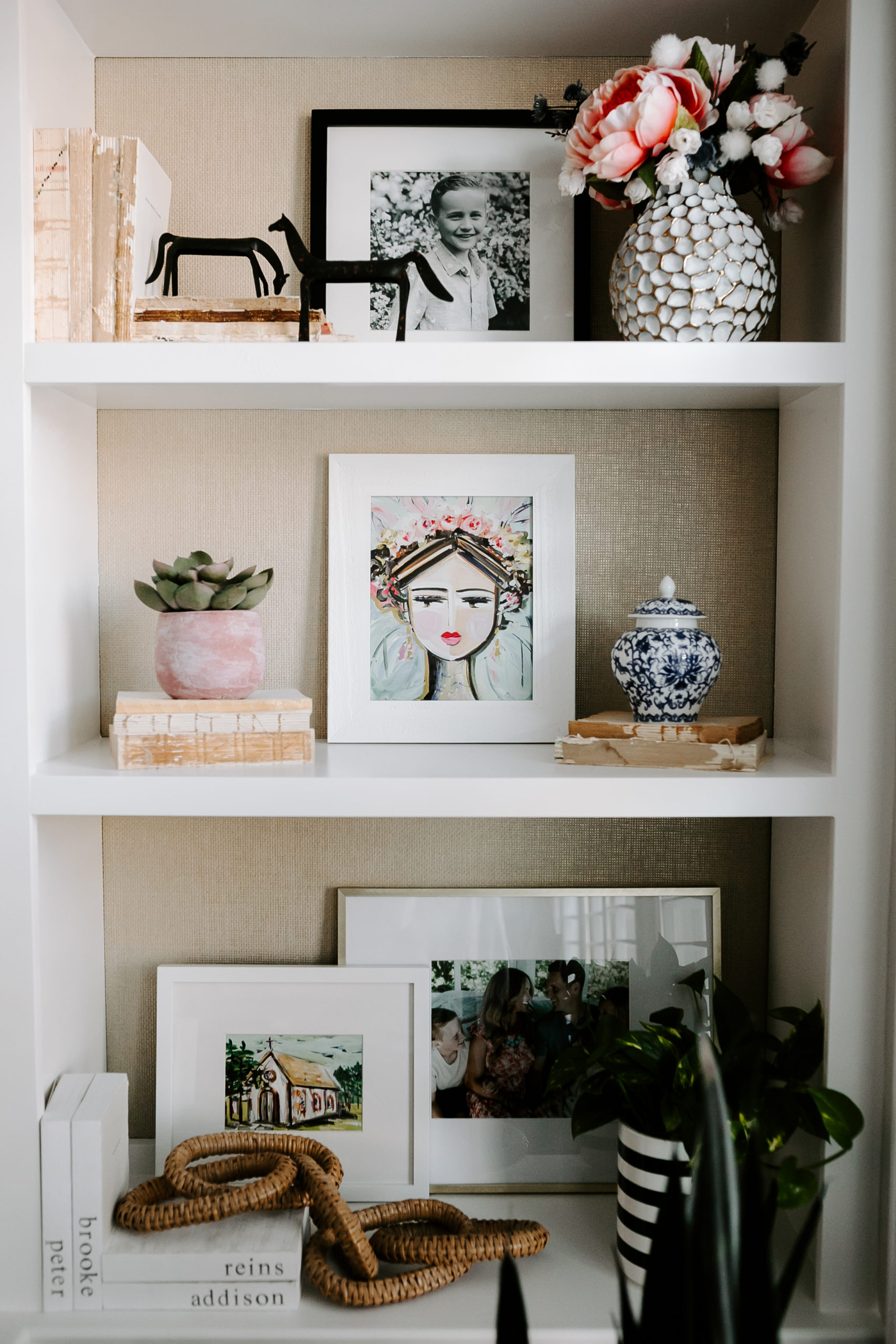 I also ordered two focal artwork pieces from one of my all time favorite artist, Lindsay Sherbondy, of Lindsay Letters Co. Her artwork has such soul and meaning to each and every piece and I love how the colors of these two pieces tie in so nicely with the rest of our office space. They are the focal point of this space and are most certainly conversation starters too!
I used these gold and white frames to showcase pictures of our family both on our shelves and on our walls. These frames are classy, beautiful, and affordable. We use these frames throughout our home…they are the BEST!
The buffalo plaid bench that we purchased was such a great find but is no longer available…I did find this one that I love just as much in case you are interested in something similar. This tufted ottoman is the perfect centerpiece for this space! I also love mixing prints so I picked out these leopard print pillow covers to place on the buffalo plaid bench! Another favorite piece in our office is my desk chair…it is the Pennington Desk Chair from Ballard Designs. It is custom made and I selected the Serengeti Camel fabric, which I absolutely LOVE!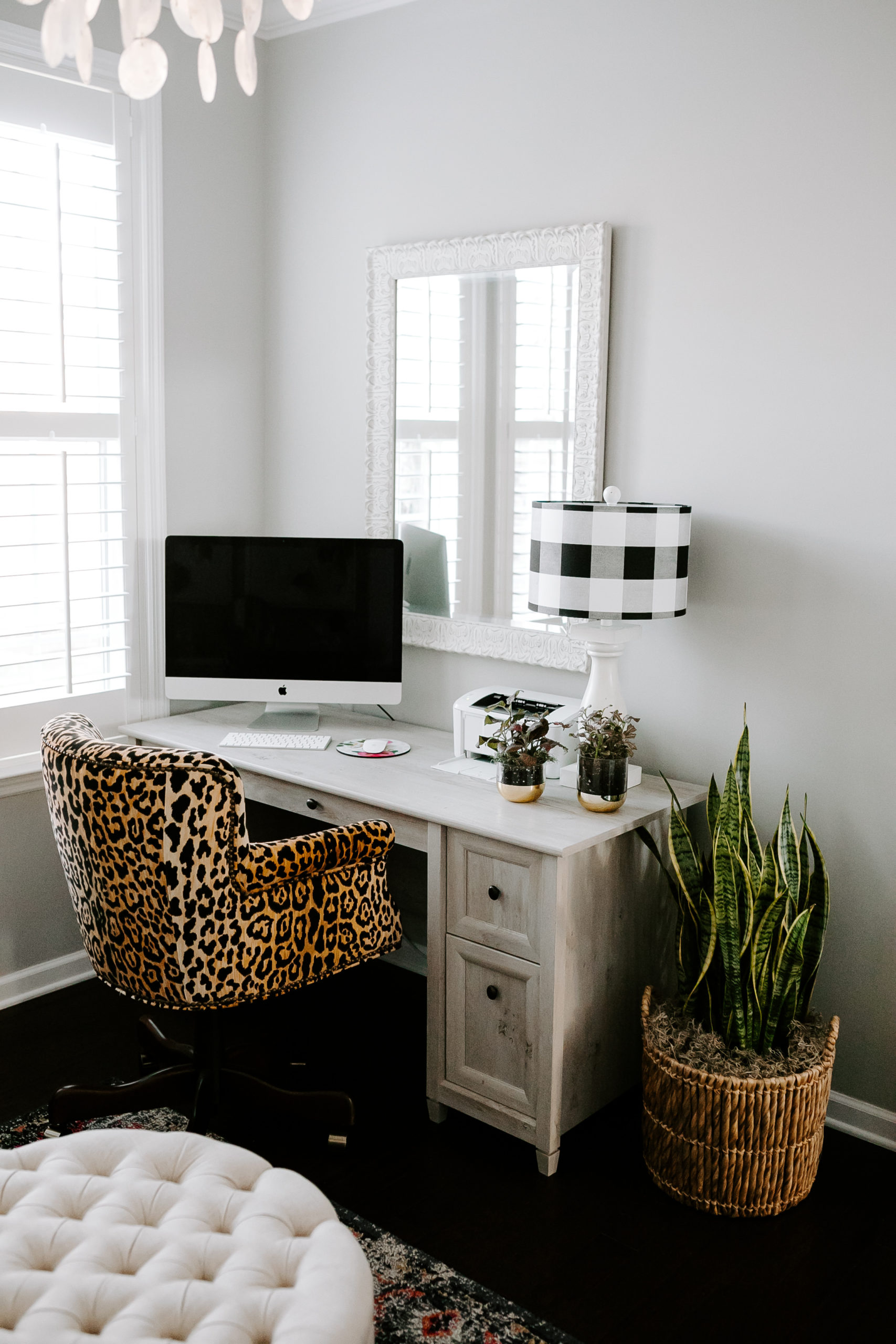 I sourced the rest of our decor from Kirkland's, Target, At Home, Etsy, Ballard Designs, Anthropologie, and Target. My rug is from Rugs USA, which is my favorite online place to find beautiful and affordable rugs…in fact, almost every rug in our home is from Rugs USA.
I've linked up the items that are still available plus some similar decor items. There are still a few simple additions we'd like to add to our office, included either some photos or artwork around the desk but for now, we are sitting back and enjoying the room that came to life after almost 5 years of trying to decide how to decorate it! Lesson learned…good things are worth the wait!
I appreciate you stopping by today and do hope you found some inspiration for your home office as well. See you back here real soon…take care.